U.S. commuter airline, Cape Air has 100 of the twin-engine Travellers on order.
While Airbus and Boeing have been getting all the air transport headlines with their new-generation 350Ws, 787s and 737 Max aircraft, Italian aircraft manufacturer, Tecnam has been busy designing its all-new P2012 Traveller – the airplane the company envisions as filling the much-needed role as the next-generation, short-haul, twin-engine commuter airliner.
"We are truly excited that all of our product lines will be represented on an aircraft that is designed to rejuvenate the piston, commuter aircraft market around the world," explained Pete Schreiner, V.P., Sales and Support, Hartzell Engine Technologies. "I was just at Tecnam's factory in Capua, Italy where I was able to see the new P2012. It recently completed taxi tests and was undergoing additional modifications in preparation for its first flight."
Tecnam representatives have stated that the new P2012 Traveller is on schedule for its inaugural flight in the middle of June.
"Hartzell Engine Technologies' components are playing a key role in the Traveller program," Schreiner said. "The aircraft is powered by two Lycoming TEO-540-C1A engines and each of those engines will have the latest HET turbocharger system, fuel pump, E-Drive starter and alternator. The Traveller's wide, nine-place cabin will also have an HET I-Series cabin heater."
"Because these aircraft will be used in scheduled airline service, making many short flights in a day and undergoing frequent engine shut-downs and restarts, dispatch reliability is paramount," he said. "Tecnam has specified our new, lightweight, E-Drive starter with self-resetting kick-back protection, as engine kick-back is the number one cause of starter failure."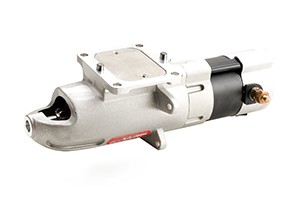 Hartzell Engine Tech's E-Drive Starter
"In addition, the P2012's new turbocharger system consists of a turbocharger and waste gate manufactured by HET," Schreiner said. "The new I-Series cabin heater is a state-of-the-art unit and features an Inconel® combustion tube and the famous 'whirling flame' principle of combustion, which provides greater efficiency and lower fuel consumption."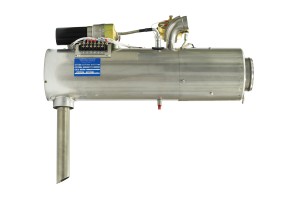 Hartzell Engine Tech's I-Series Cabin Heater
Tecnam has stated that the company expects to have FAA and EASA certification for the P2012 Traveller in early 2018 and that the aircraft will be certified to meet both FAR Part 23 and EASA CS-23 regulations.