Shipment of the 2,000th unit comes in less than 10 months after the company received FAA PMA production approval for the family of new-generation starter adapters.     
 Montgomery, AL (April 16, 2021) — Representatives of Hartzell Engine Technologies, LLC (HET) announced today that the company recently shipped the 2,000th new-generation Sky-Tec starter adapter for Continental Aerospace piston aircraft engines.
"This is an extremely exciting announcement for the team at Hartzell Engine Technologies, Continental Aerospace, our distributors, and our customers," stated Keith Bagley, president of Hartzell Engine Technologies. "To go from receiving FAA PMA (Parts Manufacturer Approval) to shipping the 2,000th starter adapter in nine months is an amazing accomplishment – and we did it under COVID restrictions."
"Our success is directly related to two things: One is that our manufacturing engineering team has made significant improvements to the methods and processes," he added, "The second is the Sky-Tec Starter Adapters are readily available through our updated distribution network or factory direct through Quality Aircraft Accessories. We can get shops the assemblies or the piece parts they need when they need them."
"Aircraft owners don't realize the significant strain that is put on their engine's starter and starter adapter every time they start their engine," Bagley said. "We put hundreds of hours of testing and evaluation into the development of these Sky-Tec starter adapters for Continental Aerospace engines. That testing proved that these new units will deliver the performance and reliability our customers demand."
As with all Hartzell Engine Technology products and components, the new line of Sky-Tec FAA PMA Continental Aerospace starter adapters, including complete units, as well as the detail parts required to maintain them, are available factory-direct through Quality Aircraft Accessories (QAA), as well as its authorized North American distributor, Aircraft Spruce. International sales are through Hartzell Engine Technologies' current international distributors.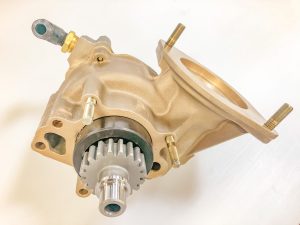 We recommend