Hartzell Engine Technologies recently put the finishing touches on the total modernization of its Montgomery, Alabama machining operations. The multi-faceted project, valued at over $3 million, included replacing nearly all of HET's legacy equipment with state-of-the-art CNC machining centers and automated CMM inspection equipment.
"Everything in here is light years ahead of the equipment we replaced in terms of capability, precision and quality," explained Mike Disbrow, President, Hartzell Engine Technologies. "This would be on par with what's on the floor at any high-end machining operation and it puts us up with the leaders in aviation manufacturing. Not bad for a small company."
While Disbrow and his production team are proud of every new piece of equipment in the facility, two machines in particular are at the top of their "must-have" list.
The first is the Mazak Horizontal Center Nexus 4000-II with the Palletech system used for the precision machining of Hartzell's alternator housings and will soon be used for finishing operations on various turbine housings.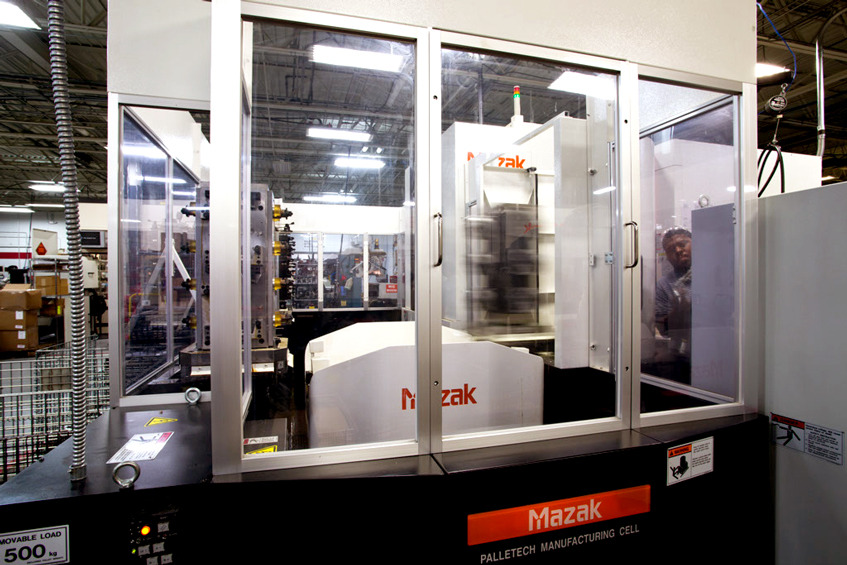 "It's amazing to watch this machine in action. Its automation alone saves our technicians many steps compared to the old machining process," Brandon Stewart, Machine Shop Operations Director said. "Once the operator loads the Palletech "tombstones" into the machine it will operate unattended and produce very high quality machined products at a more efficient rate."
"Another cool feature is it can automatically machine multiple tombstones containing various part numbers in succession," he added. "All the operator has to do is load the correct casting and the machine's programming does the rest."
While the components created with the Mazak and other new machines on the shop's floor are incredibly precise, Rose Foster, V.P. of Operations said that every part that is produced in-house or is received from an outside vendor receives an extensive quality control inspection before it finds its way into production stock.
Parts are inspected at controlled frequencies when entering the building and then again at each step throughout the product cycle. Every inspection is done using the highest quality technology available.
"One of our new first-line QC inspection tools are two Brown & Sharpe Global Advantage CMMs," Foster said. "These inspection units are so precise that their probes can detect down to five microns of deviation."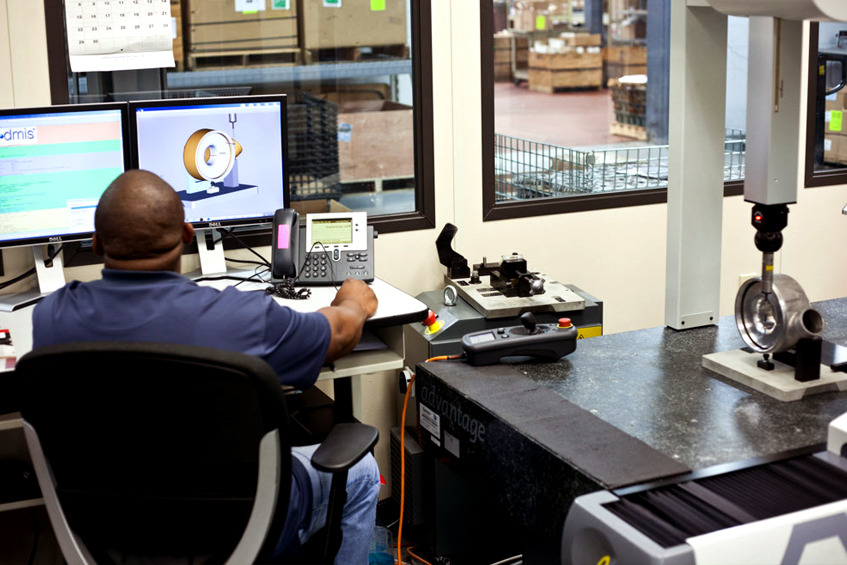 "In addition, the air bearing CMMs are so sensitive that we have housed them in their own environmentally-controlled room," she said. "We have also equipped each CMM with Orion SPC (statistical process control) workstation software. This software places the emphasis on continuous improvement and is an efficient and effective way to bring SPC to the shop floor."
As part of the facility upgrade HET installed five new Mazak CNC machining centers and five new Hexagon/Brown & Sharpe CMMs in addition to other new production and inspection equipment required to upgrade each work cell.
To optimize production and quality, HET has organized each machine into self-sufficient production cells. Each one produces its own specific parts families.
"In addition to the machining centers, the cells have all the inspection and secondary equipment necessary to complete their parts within that cell," Foster said. "This minimized queues and speeds the flow of materials thought the production operation."
"Hartzell customers expect the highest quality and machines like these demonstrate just how committed we are to delivering on those expectations," she added.
Disbrow added that along with the significant financial investment, the shop upgrade took a lot of planning and coordination to get it all done without interfering with HET's production schedule.
"These are very sophisticated machines and they required a fair bit of fixture design and programming to be able to produce and inspect these precision parts," Disbrow explained. "We actually had the equipment initially installed at Hartzell Propeller's 'skunk works' hangar where their manufacturing services groups had the space and time to set the machines up to run our parts, as well as train our machinists on their proper operation."
"Once each machine was dialed-in to making our components, the old equipment was cleared out here in Montgomery and the new unit was installed," Disbrow said. "There was very little production downtime."
"People who have seen all this new equipment often ask why we would make such a large investment in equipment and training while the general aviation sector is down?" Disbrow said. "To us it makes perfect business sense. Our goal is to produce products that lead every category we are in – both from a performance and a value perspective. The only way to do that is to start by producing the best products we can. And to do that we need the best machines in our shop."
We recommend
Maintenance
•
August 14, 2022